Performing a manual backlink audit, step by step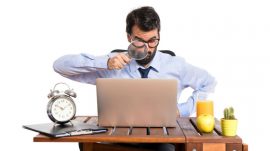 It might be every SEO's least favorite job: the backlink audit. This is not because the work itself is horrible (though it can be tedious on sites with large link footprints), but because it's almost always performed when a domain is in trouble.
Whether you're reading this article because you're an SEO looking at new strategies or a site owner that has received a link-based penalty, I hope you find the methodology below helpful.
I should note before proceeding that I prefer robust datasets, and so I'll be using four link datasets in the example. They are:
Google Search Console
Majestic
Ahrefs
Moz
Though I have paid accounts with all of the tools above (except for the Search Console, which is free), each offers a way to get the data for free — either via a trial account or free data for site owners. There are also other link sources you can use, like Spyfu or SEMrush, but the above four combined tend to capture the lion's share of your backlink data.
Now, let's begin.
[Read the full article on Search Engine Land.]
From our sponsors: Performing a manual backlink audit, step by step
Related posts