Marketing Day: YouTube's top 10 ads, Facebook Messenger buy button & more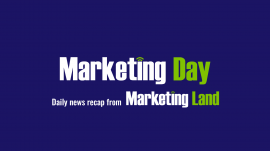 Here's our recap of what happened in online marketing today, as reported on Marketing Land and other places across the web.
From Marketing Land:
Top 10 YouTube ads in August: Clash Royale breaks record with 5 ads in top 10
Sep 12, 2016 by Amy Gesenhues
Nike's Olympic-themed "Unlimited You" wins No. 1 spot, but Clash Royale was the big brand winner dominating half the list.
Facebook Messenger adds buy button, native payments and links bots to Facebook ads
Sep 12, 2016 by Tim Peterson
Facebook is making it easier for people to buy from Messenger bots and giving those bots new tools to increase sales.
Instagram adds the ability to hide offensive & inappropriate comments
Sep 12, 2016 by Greg Finn
Dislike vulgarity & inappropriate speech? Instagram can help block the hate in comments with a new feature.
Unruly now offers biometric measurement of video ads
Sep 12, 2016 by Barry Levine
The new 'holistic' solution from the News Corp-owned ad tech firm provides brainwave capture by Nielsen, facial analysis by Affectiva, and sound analysis from Moodagent.
New MarTech Intelligence Report: Digital Analytics Platforms
Sep 12, 2016 by Digital Marketing Depot
With the explosive growth of social media, video and mobile, the importance of understanding the contributions and relationships of these channels to website traffic and conversions has increased significantly. This 41-page MarTech Intelligence Report examines the current trends and issues in enterprise digital analytics, including omnichannel marketing, tag management and mobile measurement and optimization.
Digital transformation is like changing a tire while driving. Challenging… but possible.
Sep 12, 2016 by Marketing Land
Back in 2007, I took a job with a large software company that built a massive but traditional software business. My team was challenged with shifting our enterprise CIO customers perspectives away from traditional products to cloud-based enterprise offerings.
[PODCAST] Marketing Land Live #27: Rants about Apple, when it's illegal to link & more
Sep 12, 2016 by Matt McGee
In this week's podcast, we talk about the Apple hardware announcement, the latest Google algorithm chatter and an EU case that suggests some types of links may be against the law.
Forget who's leaving. How about who's staying? How to evolve your agency creative department
Sep 12, 2016 by Allison Kent-Smith
How do you get your agency to break out of established norms and transform the craft of creative at your workplace? Columnist Allison Kent-Smith has tips for how to modernize your creative department.
Why sales chat needs to be part of your multi-channel strategy
Sep 12, 2016 by Tamar Weinberg
Live chat is a powerful sales tool, so don't confine it to only your web page. Columnist Tamar Weinberg explains how to make it a part of your multi-channel marketing strategy .
Twitter rolls out an app for Amazon's Alexa voice assistant
Sep 9, 2016 by Tim Peterson
People can ask Amazon's Alexa to read out their Twitter timelines as well as topics that are trending on the social network.
Recent Headlines From Search Engine Land, Our Sister Site Dedicated To Search News & Information:
AdWords Campaign Experiments (aka ACE) to sunset in favor of Drafts & Experiments
Upcoming webcast: How to optimize search, Facebook, and display ads to drive offline sales
8 tips to make sure your Google profile images boost your local search results
Online Marketing News From Around The Web:
Affiliate Marketing
Content versus conversion: why we need to talk about voucher codes, blog.affiliatewindow.com
Analytics
Relax Marketers: Data Analysts Won't Replace You (Any Time Soon), www.cmswire.com
What Top Companies Know About Analytics (That You Don't), blog.kissmetrics.com
Which Marketing Channels Have the Best ROI Measurability?, www.marketingprofs.com
Why Your Company Needs a Chief Data Science Officer, www.cmswire.com
Business Issues
Apple Is Said to Be Rethinking Strategy on Self-Driving Cars, New York Times
Yahoo sale proxy: A $145 million termination fee, 51 possible bidders and a scotched offer from Yahoo Japan, www.recode.net
Amazon and Pandora to Gauge Music's Value in the Internet Age, www.nytimes.com
Amazon Seeking Global, U.S. Sports Video Rights, adage.com
General Mills Teams Up with Yahoo Esports as First Sponsor of New Live Shows, yahoo.tumblr.com
HP Buys Samsung's Printer Business in $1.05 Billion Deal, adage.com
Content Marketing
Ethics, Professionalism, and Good Manners for Content Marketers, www.copyblogger.com
How Brands Can Get the Most From Their Content Marketing Agency, www.toprankblog.com
How Improv Can Boost Your Team's Creativity and Storytelling, www.convinceandconvert.com
How to Inspire Customers to Tell Your Brand Story, www.convinceandconvert.com
Prepare to Be Ignored if You Don't Have Subscription Goal, contentmarketinginstitute.com
The Art of Content: How Artsy Brought a $64 Billion Industry Into the Digital Age, contently.com
The secret to share-worthy content, adsense.googleblog.com
Three ways brands can let their audience create their content, econsultancy.com
Your Complete Guide to Creating Better Content For Your Business in 2017, mackcollier.com
Copywriting, Design & Usability
25 Inspirational Resources for Copywriters, unbounce.com
How to test if your website supports HTTP/2, www.branded3.com
How to Use UX Research to Create Smarter A/B Test Variations, conversionxl.com
Tips To Add Maps Imaginatively On Your WordPress Website, www.wpexplorer.com
E-Commerce
A Dozen Digestible Takeaways from 2016's E-Commerce Benchmarks Study, moz.com
E-Commerce Is a Boon for Rural America, but It Comes With a Price, www.wsj.com
eBay launches a smartphone trade-in site called "Quick Sale", techcrunch.com
How an e-retailer manages messaging for a multicultural workforce, www.internetretailer.com
Internet Users Rely on Reviews When Deciding Which Products to Purchase, www.emarketer.com
Multichannel 101: Bringing Order to the Chaos of Managing all the Channels, company-enterprise.myshopify.com
Omnichannel Experience Not Matching Up to Its Promise, multichannelmerchant.com
This e-commerce company doesn't have customer service reps, it hires problem solvers, qz.com
Top e-retailers deliver the good faster, www.internetretailer.com
Email Marketing
Email Continues to Deliver Strong ROI and Value for Marketers, www.emarketer.com
Give a Boost to Your Business This Summer with These Email Marketing Strategies, www.martechadvisor.com
How To Grow Your Email List Fast With Simple Marketing Automation, www.jeffbullas.com
How to Use Animated GIFs in Your Emails, blogs.constantcontact.com
The Beginner's Guide To Drip Marketing, blog.crazyegg.com
General Internet Marketing
High turnover of CMOs linked to challenges with digital & data, www.cardinalpath.com
Marketers Need Identity Graphs — Better Ones, adage.com
The Real Heavy Lifting To Make Audience Buying A Reality For Brands, adexchanger.com
When The FTC Speaks, Brands Need To Listen (Especially When It Comes To Influencer Marketing), adexchanger.com
MarTech
Ad Tech Companies Are Testing New Formats Like Virtual Reality and 360 Video, www.adweek.com
The Tech CMO Career Path, www.marketingprofs.com
VC Sours On Media Companies Posing As Ad Tech, adexchanger.com
Mobile/Local Marketing
Facebook Messenger's audio and video calling reaches 300M users, techcrunch.com
Google's new iOS app Cardboard Camera lets you snap VR photos to share with friends, techcrunch.com
How can retailers create more engaging mobile experiences in-store?, econsultancy.com
How Google And Others Are Plotting The Revenge Of The Web App, www.fastcompany.com
How to Complete the Picture of Your Buyers Across Devices, blog.marketo.com
In mobile, marketers must put experience and expertise ahead of hard evidence, www.mobilecommercedaily.com
What Google Learned From the Digital Diaries of 1,000 Mobile Users, www.adweek.com
Reputation Management
6 Ways to Protect Your Business Reputation With Social Media, www.socialmediaexaminer.com
How To Prevent & Manage Negative Online Reviews, www.searchenginepeople.com
Social Media
This New Social Network Promises Almost-Total Free Speech To Its Users, www.buzzfeed.com
10 Things You Should Know About Facebook Ads, smallbiztrends.com
12 New Social Media Tools for Merchants, www.practicalecommerce.com
Facebook Can't Escape Bias, No Matter What It Says, contently.com
Facebook's censoring of the iconic "Napalm girl" photo showcases its disturbing power to rewrite history, qz.com
How to Turn Twitter Into a Prospecting Super Tool, www.internetmarketingninjas.com
How to Verify Your Facebook Business Page, www.searchenginejournal.com
LinkedIn courts users in India with LinkedIn Lite, online job placement tests, business tools, techcrunch.com
Top Influencers Weigh In on Social Attribution: What Did They Say?, simplymeasured.com
Twitter partners with finance news startup Cheddar for its first daily streaming show, www.theverge.com
UK publishers are mixed on performance of Facebook Instant Articles, digiday.com
When's the best time to share on Facebook?, techcrunch.com
Worried about bullying and fake stories on social media? There are tools for that, techcrunch.com
Video
10 Predictions: How Social Platforms Will Monetize Live Video, www.adweek.com
4 fashion brands that are getting creative with shoppable video, digiday.com
How Are Marketers and SMBs Using Social Video? (Report), www.adweek.com
How to Use Facebook Video Ads to Nurture Leads, www.socialmediaexaminer.com
Industry Trade Groups Turn Up The Volume On Digital Video Specs, adexchanger.com
Twitter can now alert you when someone you follow starts live streaming, TechCrunch
Video Wars: WeVideo, Apple Innovate While Facebook Lags Behind With Important Tools, smallbiztrends.com
From our sponsors: Marketing Day: YouTube's top 10 ads, Facebook Messenger buy button & more
Related posts