Marketing Day: Website audits, Instagram Stories & Burger King hijacks Google Home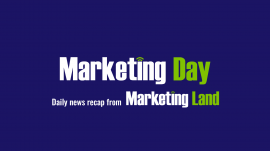 Here's our recap of what happened in online marketing today, as reported on Marketing Land and other places across the web.
From Marketing Land:
The complete guide to optimizing content for SEO (with checklist)
Apr 13, 2017 by Nate Dame
Google has stated that "content" is among its top three ranking factors, but what makes content "good" from an SEO perspective? Columnist Nate Dame outlines what makes high-quality SEO content.
How to implement an optimization framework for long-term attribution success
Apr 13, 2017 by Alison Lohse
Columnist Alison Lohse offers a framework around which to structure your attribution program and stay aligned to organizational goals by strategically balancing efficiency, scale and testing.
What the GDPR means for your business
Apr 13, 2017 by Josh Manion
With the General Data Protection Regulation (GDPR) clock winding down, companies are scrambling to decipher what it means for their business and how to become compliant. Columnist Josh Manion explains.
4 mistakes to avoid during a website audit
Apr 13, 2017 by Pratik Dholakiya
A good website audit is important for getting a holistic view of your site's SEO health. Columnist Pratik Dholakiya explains which mistakes to avoid when conducting a website audit.
NinthDecimal adds native ads to its location-based repertoire
Apr 13, 2017 by Barry Levine
The San Francisco company now offers location-targeting and offline attribution for a complete range of ad types on mobile and desktop.
Instagram Stories tops 200M daily users, now bigger than Snapchat
Apr 13, 2017 by Tim Peterson
Instagram's eight-month-old Snapchat clone is now bigger than the original and adds several more new Snapchatty features.
Email shines even brighter with Gmail and Google Wallet
Apr 13, 2017 by Matt McGowan
Contributor Matt McGowan explains why Google's announcement that users can now send and request money in Gmail on Android is a huge boon for email marketers and ESPs.
Shrewd Burger King ad tries to hijack Google Home, delivers earned media home run
Apr 12, 2017 by Greg Sterling
Ad effect is short-lived but gets massive secondary exposure because of novelty.
Online Marketing News From Around The Web:
Analytics
5 Tips for Measuring Social Ad Success, PPC Hero
Getting Started with Analytics Attribution, Kiss Metrics
Business Issues
Yext is set to raise $115.5M in its IPO after final pricing, TechCrunch
A top engineer at Twitter left the company last month, VentureBeat
Amazon CEO Jeff Bezos outlines his methods for "high-velocity decision-making", Quartz
Instagram Finds Focus Under "Efficiency Guru", Wall Street Journal
Content Marketing
4 Practical Ways to Create Enough Engaging Content, Marketo
Cognitive Content Marketing: The Path to a More (Artificially) Intelligent Future, Content Marketing Institute
Top Content Marketing Growing Pains for B2B Enterprise Marketers, Top Rank Marketing Blog
Conversion Optimization
Optimize These 6 Underused Pages for Higher On-Page Conversions, Sleeknote
Copywriting, Design & Usability
Your Ugly Website is Costing Your Business Big Time, Small Biz Trends
Domaining
How Brands Should Market Their .Brand Domain Names, Domain Investing
E-Commerce
5 Factors to Consider to Boost Your eCommerce Sales, Small Biz Trends
How to Use UGC and Customer Photos for Content Marketing & E-Commerce, MarketingProfs
Mobile Shopping Cart Optimization: Do's & Don'ts, Search Engine People
Natural Language Processing and Ecommerce Conversions, Multichannel Merchant
Email Marketing
Four Ways to Attract More Subscribers to Your Email Newsletters, Small Biz Trends
The Anatomy of an Optimal Marketing Email, Crazy Egg
General Internet Marketing
UK Digital Ad Spend Grows Fastest Since 2007, eMarketer
Internet Marketing Industry
Brightcove Launches Powerful, Scalable, Cost-Effective Live Video Platform, Brightcove
TapInfluence Launches First Automated FTC Compliance Tool for Influencer Marketing & Social Media, Business Wire
MarTech
Driving digital transformation strategy in a rapidly evolving technology environment, Chief Marketing Technologist
The Agency Swiss Army Knife – 27 Dream Marketing Stack Tools You Can't Afford to Miss, Unbounce
Will it blend? Oath will combine disparate AOL-Yahoo ad tech assets, Digiday
Mobile/Local Marketing
Diversifying Ad Spend: Why Mobile Marketers Need More Than Facebook & Google, MarketingProfs
Mobile Payment Transactions Smash Records on Big Shopping Day in China, eMarketer
ModCloth: How ASO increased App Store Downloads by 141%, 3Q Digital
Three ways mobile is impacting the beauty industry, Econsultancy
Social Media
5 Creative Tips to Drive E-Commerce Sales with Social Media, Social Media Explorer
Facebook cracks down on 30,000 fake accounts in France, Reuters
How to Amplify Your Pinterest Marketing, Social Media Examiner
How to Create Call-to-Action Units for Facebook Instant Articles, Jon Loomer Digital
How to Supercharge Your Instagram Sales Funnel (Because We Did), Shopify Plus
Introducing a Smarter Way to Message and Build Meaningful Relationships on LinkedIn, Official LinkedIn Blog
Social Commerce Is Primed to Go Mainstream (Survey), Adweek
The 6 Sweetest Facebook Advertising Features Right Now, Convince and Convert
The case for editing tweets, The Verge
The Comprehensive Guide to Social Media Ad Marketing, Duct Tape Marketing
Twitter Is Celebrating National Park Week With a Hashtag-Triggered Emoji, Adweek
Which Brands and Social Networks Teens Think Are Cool, MarketingProfs
Which Real-World Issues Are Twitter Users Discussing? (Study), Adweek
Video
7 Secrets of Super-Successful Video Marketing, The Buffer Blog
Are Brands Wasting Their Money on Virtual Reality?, Contently
Here's How YouTube TV Is Doing One Week in Among Cord Cutters, Adweek
How to Produce More Personalized Video by Breaking the Fourth Wall, Convince and Convert
It's Not YouTube's Fault: Blame the "Magazine Format" for the State of Video Advertising, Tubular Insights
Marketers Challenged to Deliver Better Video Experiences to Customers, KoMarketing
News and Sports Publishers Back Sponsored Video to Win, Tubular Insights
The 80/20 rule: How to make the biggest impact with video, Digiday
From our sponsors: Marketing Day: Website audits, Instagram Stories & Burger King hijacks Google Home
Related posts