Marketing Day: US ad spend, Periscope 360 & 2017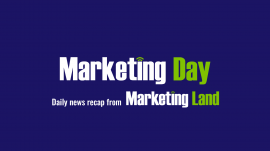 Here's our recap of what happened in online marketing today, as reported on Marketing Land and other places across the web.
From Marketing Land:
A year in review: Search Engine Land's top 10 columns of 2016
Dec 30, 2016 by Jessica Thompson

Which topics drew the most attention within the search industry this year? From infographics to quizzes to advice, our top 10 columns of the year on our sister site, Search Engine Land, covered all the bases.

What rocked digital marketers' worlds in 2016: Marketing Land's top 10 columns of the year
Dec 30, 2016 by Pamela Parker

While many of us will be thrilled to see 2016 in the rear-view mirror, there's plenty in the digital marketing world worth remembering about the year.

A big year for marketing technology: Our top columns of 2016
Dec 30, 2016 by Jessica Thompson

Look back through a year in marketing technology with our most-read columns of 2016 on our sister site, MarTech Today!

Relationship marketing: The new CRM
Dec 30, 2016 by Seth Price

Columnist Seth Price believes that the best martech sits at the intersection of old-school marketing and today's digital technology, and next-gen CRMs that can manage this balance will help marketers connect with consumers in the most effective way possible.

Why Google shutting down Map Maker should terrify SMBs
Dec 30, 2016 by Joy Hawkins

Contributor Joy Hawkins warns about the likely unintended consequences of Google's impending shutdown of Map Maker, calling for the search giant to create more transparency.

Being the brand local customers 'know': Brands share hows and whys of local marketing programs
Dec 30, 2016 by Megan Hannay

Columnist Megan Hannay takes a look at four big national brands that are taking advantage of local sponsorships and partnerships to connect with customers and communities.

10 behavioral science principles for great digital creative
Dec 30, 2016 by Peter Minnium

What can behavioral science teach marketers about digital advertising? Contributor Peter Minnium dives into key learnings from behavioral scientists to help you know how to engage your prospects.

Top brand moments in 2016: 5 CMOs share their biggest milestones of the year
Dec 30, 2016 by Amy Gesenhues

From new brand identities to major ad campaigns, CMOs from StubHub, Peloton and more share their top moments during the last 12 months.

Amazon launches Digital Day, a new sales holiday for digital products
Dec 29, 2016 by Greg Finn

Can Amazon create yet another successful sales day? We'll find out this Friday.

Organic search party: Search Engine Land's top SEO columns of 2016
Dec 29, 2016 by Jessica Thompson

Which stories got the SEO community fired up this year? Check out our sister site's top "All Things SEO" and "Link Week" columns of 2016 to find out!

Individualization: Mobile marketing's next step
Dec 29, 2016 by Josh Todd

Using martech's capabilities to deliver personalized content is great, but contributor Josh Todd challenges marketers to reap the rewards of true one-to-one messaging.

Is Google's AMP carousel working? (Or, SEO insights from Kanye West)
Dec 29, 2016 by Barb Palser

Publishers are asking questions about the effectiveness of Google's AMP carousel. Columnist Barb Palser analyzed 235 million AMP search impressions to find answers.

LinkedIn Ads: CPC vs. CPM bidding — Stop saying, 'It depends on your goals'
Dec 29, 2016 by AJ Wilcox

Contributor AJ Wilcox bucks the conventional wisdom and outlines a process for maximizing ROI for your LinkedIn Ads.

Going viral: The top social media marketing columns of 2016
Dec 29, 2016 by Desiree Everts DeNunzio

Which social media trends caught marketers' interest in 2016? Catch up on the topics that dominated our lives — and feeds — over the past year.

Periscope launches live 360 video broadcasting
Dec 28, 2016 by Greg Finn

Get a 360° experience alongside Periscope broadcasters with new 360 Live video streaming.

Report: US advertisers spent $17.6 billion on digital ads in Q3
Dec 28, 2016 by Greg Sterling

It was the highest third quarter for digital advertising spending on record and reflects 20 percent year-over-year growth.

Top smartphone apps of 2016: Google and Facebook control 8 out of the top 10 slots
Dec 28, 2016 by Greg Sterling

Amazon, Apple Music appear on Nielsen's list, while Snapchat and Pandora are in the comSore top 10.

Email Optimization Checklist – Capture, Convince, Close
Dec 28, 2016 by Digital Marketing Depot

Getting email right has never been so important. In an effort to always give you the most up-to-date, reliable marketing advice, Whereoware has updated their Email Optimization Checklist – Capture, Convince, Close to reflect new email best practices. Whereoware's Email Optimization Checklist walks through tried and true techniques for crafting and sending emails that capture […]

SEM's legit: Our top paid search columns of 2016
Dec 28, 2016 by Jessica Thompson

Expanded text ads, the removal of the right rail in SERPs and many other changes dominated the PPC world this past year. Read on to see the most popular paid search columns of 2016 from our sister site, Search Engine Land.

3 ways in-house do-it-yourselfers can prepare for PPC management
Dec 28, 2016 by Pauline Jakober

So, your boss just told you that managing PPC is being added to your list of responsibilities. What to do? Columnist Pauline Jakober offers tips on how to get up to speed.

Consolidation, convergence and the collective: Three Cs will drive B2B marketing in 2017
Dec 28, 2016 by Erik Matlick

Contributor Erik Matlick suggests new ways of thinking about data and technology that will characterize B2B marketing next year and beyond.

Getting down to business: Our top CMO Zone columns for 2016
Dec 28, 2016 by Desiree Everts DeNunzio

What are the most successful CMOs doing right? Read on for the marketing strategies that caught Marketing Land readers' attention this year.

Top martech in 2016: CMOs from PepsiCo, Mizzen+Main & Olapic list their favorite martech this year
Dec 28, 2016 by Amy Gesenhues

From artificial intelligence to Instagram's latest tools, these three CMOs share the martech they were most excited about in 2016.

Revamping your email marketing program for the new year
Dec 28, 2016 by Scott Heimes

Ready to make some New Year's resolutions for your email programs? Contributor Scott Heimes lays out concrete steps for getting a fresh start in 2017.

Amazon's happy holidays: 9x growth in Echo family device sales
Dec 27, 2016 by Matt McGee

Echo Dot was the top-selling item on Amazon.com, with "millions sold worldwide." Mobile shopping was up slightly over last year.

Report: Personal health data should be off-limits to common marketing practices
Dec 27, 2016 by Barry Levine

The authors — who were instrumental in the creation of the Children's Online Privacy Protection Act — call for governmental and industry safeguards.

Eat Local: Our Top 10 Local Search Columns of 2016
Dec 27, 2016 by Jessica Thompson

Hungry for some good local SEO content? Satisfy your hunger with the 10 most popular local search columns of the year from our sister site, Search Engine Land.

SEO in 2017: Mobile optimization as a competitive advantage
Dec 27, 2016 by Marcus Miller

Even many of the titans of the internet could do with a bit of optimization of their mobile sites. Contributor Marcus Miller offers a comprehensive view of how to ensure you're making the most of the opportunity to forge ahead.

Improve your paid search & social through relationship marketing
Dec 27, 2016 by Jeff Baum

Contributor Jeff Baum explains how you can nurture your prospect through the entire buying journey using search ads and paid social.

Sisense lets you ask for analytics by voice — or by checking the color of your desk lamp
Dec 27, 2016 by Barry Levine

Amazon Alexa, chatbots, and connected lightbulbs are now front-ends to business data for this New York City-based company.

Industry consolidation and programmatic's power: 2 hot topics explored by the top 10 display advertising columns of 2016
Dec 27, 2016 by Pamela Parker

The digital display ecosystem continued its evolution this year, with big acquisitions and the growth of formats like programmatic, video and native.

2016: The Year in Social Media
Dec 27, 2016 by Tim Peterson

From Facebook's math mistakes to LinkedIn's sale to Twitter's failed sale to Snapchat's rebrand, 2016 was a weird, unforgettable year.

5 things you should know about the Google Display Network, direct from Google
Dec 27, 2016 by Matt Lawson

Google released responsive ads in July and announced cross-device remarketing, display location extensions and store visits in late September. Columnist and Googler Matt Lawson answers the top questions we've received on these features.

Content about content is king: 2016's most popular columns on the topic
Dec 27, 2016 by Pamela Parker

While the basics of content creation — make it valuable and spread the word about it! — remain static through time, the specific tools and techniques get regular updates. Catch up on this year's most interesting developments in this essential space.

The 12 stages of email marketing's evolution: Past and future
Dec 27, 2016 by Chad White

Columnist Chad White takes a close look at how email has changed since the 1990s and the trends that will shape email marketing in 2017.
Online Marketing News From Around The Web:
Analytics
These Major Accuracy Problems Are Affecting Your Marketing Reporting, Simply Measured
Business Issues
Facebook Doesn't Tell Users Everything It Really Knows About Them, ProPublica
Content Marketing
20 Types of Evergreen Content that Produce Lasting Results for Your Business, Copyblogger
6 Stolen Content Marketing Ideas from the Top Marketers of 2016, Content Marketing Institute
15+ Tools and Templates for Plug-and-Play Content Marketing Plan, Content Marketing Institute
5 Factors That Could Impact Your Content Strategy in 2017, Contently
Copywriting, Design & Usability
6 Holiday Campaigns That Drive the Customer Journey, Marketo
How to Improve Your Site's Performance When Using GIFs, moz.com
Strategies For Effective Mobile Landing Pages, Smashing Magazine
4 Design Terms Every Marketer Needs to Know, KISS Metrics
Display & Contextual Advertising
Other sites are using my ad code. What should I do?, Inside AdSense
The Year Header Bidding Went Mainstream, Ad Exchanger
Domaining
2016: The year in Top Level Domain Data, blog.majestic.com
.Com Registrations Loses Another 1 Million Domains In Less Than 2 Weeks; Now Under 127 Million, The Domains
E-Commerce
Ecommerce: The new holiday frontier, Mobile Commerce Daily
Why e-commerce isn't a high priority for TJ Maxx, Internet Retailer
Amazon finally unveils Wickedly Prime premium snack line, www.retaildive.com
J. Crew website suffers extended holiday outage, www.retaildive.com
Retailers rise to the last-minute challenge, Internet Retailer
Email Marketing
It's Here: Your 2017 Email Marketing Calendar, blogs.constantcontact.com
General Internet Marketing
How Woke Is Wikipedia's Editorial Pool?, Bloomberg
5 Disruptions to Marketing, Part 5: Artificial Intelligence, Chief Marketing Technologist Blog
How Marketers Can Prepare for the New Wave of Artificial Intelligence, MarTech Advisor
Mobile/Local Marketing
From Apps to iPhones: Holiday Shoppers Invest in…, flurrymobile.tumblr.com
Ready for 2017? Here are the mobile marketing trends you'll see, TUNE
Social Media
7 Tools To Help Promote Your Instagram Account, Social Media Explorer
Facebook Advertising: How to Get More for Your Budget, Online Marketing Blog
Facebook's Safety Check in Bangkok misled users with news from 2015, www.theverge.com
The 10 Best Brand Tweets of 2016, Contently
Video
Who chooses YouTube's "important videos"?, BBC News
From our sponsors: Marketing Day: US ad spend, Periscope 360 & 2017
Related posts