Marketing Day: SEO content audits, YouTube ad tips & The Media Trust's 'first vendor network'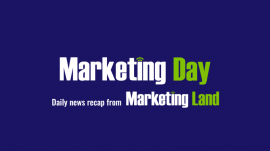 Here's our recap of what happened in online marketing today, as reported on Marketing Land and other places across the web.
From Marketing Land:
Personalization 2.0: Transform your marketing from segmentation to intent-driven personalization
Sep 14, 2017 by Digital Marketing Depot
Consumer expectations about the digital shopping experience have never been higher. Today, consumers expect relevant, personalized content and offers that cater to their needs in any given moment. But what does it mean to personalize your marketing? Many marketers mistakenly think that personalization means segmentation.
How to conduct an SEO content audit
Sep 14, 2017 by Thomas Stern
Columnist Thomas Stern shows how a content audit, when done right, can help you assess whether your content is relevant not only to your brand goals and SEO objectives, but also to the customer's needs.
A search marketer's view of Facebook's advertising platform
Sep 14, 2017 by Ted Ives
Search marketers, have you considered expanding into paid social? Columnist Ted Ives details some of the hurdles and difficulties he's encountered in venturing into Facebook Ads territory.
SurveyMonkey SVP says her drive to tell stories is the reason she went into marketing
Sep 14, 2017 by Amy Gesenhues
Get to Know SurveyMonkey SVP Marketing Communications Bennett Porter
Martech enablement series: Part 6 — Building the car
Sep 14, 2017 by Peter Ladka
In Part 6 of a nine-part series, contributor Peter Ladka takes a look at the "car" of the race team and how its corresponding systems allow your marketing organization to take action with its martech stack.
Stop wasting your marketing efforts: The 3 prongs to inbox placement
Sep 14, 2017 by Mary Wallace
Columnist Mary Wallace explains how your technical setup, list management and marketing strategy all affect inbox placement and the chances of your messages being seen.
When Amazon comes for your company, don't lose focus on what matters: Your customer
Sep 14, 2017 by Joe Hyland
Amazon appears to be an unstoppable powerhouse gobbling up its competitors. So how do you ensure your company's survival? Contributor Joe Hyland explains why it comes down to creating engaging customer experiences that build brand loyalty.
7 killer ad tips for YouTube & video
Sep 14, 2017 by Kevin Lee
Looking to add video advertising to your marketing mix? Columnist Kevin Lee shares some advice for ways to take advantage of YouTube's video advertising platform.
What's better than a marketing tech stack? Your marketing org stack
Sep 14, 2017 by Marketing Land
We've been running running The Stackies at chiefmartec.com for three years now, inviting marketers to send in a single slide that visually illustrates their marketing tech stack. It's evolved into an awards program and a drive for charity (the last Stackies program raised $7,800 for Girls Who Code).
Tobii Pro employs its eye-trackers to find out what attracts attention in a car showroom
Sep 14, 2017 by Barry Levine
This is the first public data from a showroom study using Tobii's glasses.
With an eye toward GDPR, The Media Trust sets up 'first vendor network' to fix the Net
Sep 14, 2017 by Barry Levine
The Digital Vendor Risk Management service certifies vendors who have agreed to fix their code on sites and apps to comply with GDPR and other policies.
Online Marketing News From Around The Web:
Analytics
Blog Metrics: Why You Need to Stop Focusing on 'Vanity' Stats, Problogger
Facebook Relevance Score: 4 Key Facts to Know, WordStream
How to Map Behavioral Metrics Into Your Key Business Drivers, Kiss Metrics
Business Issues
There's Blood In The Water In Silicon Valley, www.buzzfeed.com
A New Center for Crisis Response on Facebook, Facebook Newsroom
Former Google Employees Allege Bias Against Women, Wall Street Journal
Content Marketing
8 Big Questions From Content Marketing World to Ask Year Round, Content Marketing Institute
Put your customers to work – Creating Content on Demand, Digiday
The Power of Headlines for Your Success, Compukol
E-Commerce
5 Ways Retailers Can Leverage Data to Rethink Their Ecommerce Strategy, Multichannel Merchant
B2B Ecommerce Examples: 10 Lessons from 10 of the Best B2B Websites, Shopify Plus
E-Commerce Apps: Why Consumers Use Apps & Features They Value, MarketingProfs
Email Marketing
58% of B2B Marketers Intend to Boost Spending on Email Marketing, KoMarketing
AI in Email Tech: An Intuitive Touch to your Customer Engagement, MarTech Advisor
General Internet Marketing
5 Challenges for Enterprise-level Digital Marketers, Vertical Measures
Marketing-as-a-Service (MaaS): What is it and Why do SMBs need it?, MarTech Advisor
The Top 4 Reasons Why Influencer Programs Fail, MediaKix
Internet Marketing Industry
Major Ad Trade Groups Release Joint Letter Outlining Deep Concerns Over Cookie-Handling, PR Newswire
OneSpot Appoints David Brown Chief Strategy Officer And Launches Strategic Services Business For Content Marketers, PR Newswire
Video Ad Personalization Firm, Clinch, Secures $3MM in Series A, Markets Insider
MarTech
How to be an Agile Marketer in a Martech World, MarTech Advisor
Mobile/Local Marketing
Facebook Tests Data-Friendly Instant Videos on Mobile, Search Engine Journal
Google AMP is Winning or My History with AMP, Alex Kras
Malicious apps with >1 million downloads slip past Google defenses twice, Ars Technica
Social Media
How to Add Qualifying Questions to Your Facebook Lead Ads, Social Media Examiner
Media buyers applaud Canvas ads in Instagram Stories, but say there are limitations, Digiday
The 5 Biggest Mistakes That Social Media Managers Make (And How to Avoid Them), Simply Measured
Video
7 Tips for Success with Facebook's Live Promoted Video, 3Q Digital
Facebook Could Save You Time (And Data) With Instant Video, Ignite Visibility
How Duracell created one of the top YouTube bumper ads: 1 campaign success story, 3 viewpoints, Think with Google
From our sponsors: Marketing Day: SEO content audits, YouTube ad tips & The Media Trust's 'first vendor network'
Related posts