Marketing Day: Intel's Super Bowl ad, Amazon Canada fined $1M & Facebook Journalism Project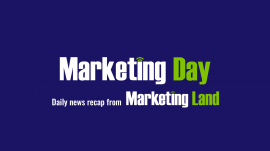 Here's our recap of what happened in online marketing today, as reported on Marketing Land and other places across the web.
From Marketing Land:
Marketing budget increases: Tips for wielding a double-edged sword for 2017
Jan 12, 2017 by Joshua Reynolds
Many CMOs this year will find themselves with an increased budget — and with it, increased accountability for driving revenues. Columnist Joshua Reynolds shares five important things to do now to help ensure success by year-end.
Ad copy hack for your AdWords pathways
Jan 12, 2017 by Jason Puckett
Ad copy implementation and testing for Single Keyword Ad Groups (SKAGs) can be difficult; use columnist Jason Puckett's hack to make your life easier.
Super Bowl LI advertisers: Here are the brands gearing up for game day
Jan 12, 2017 by Amy Gesenhues
Marketing Land is keeping track of this year's Super Bowl LI brands, with updates as new advertisers and campaign details are announced.
Intel's Super Bowl LI ad turns NFL MVP Tom Brady's daily routines into epic experiences
Jan 12, 2017 by Amy Gesenhues
The 30-second spot showcases Intel's 360-degree replay technology, the same technology Fox Broadcasting will use during the game.
[Podcast] Marketing Land Live #40: Who's using cinemagraphs and how with Flixel's Robert Lendvai
Jan 12, 2017 by Matt McGee
In this week's show, we take a deep dive into the world of cinemagraphs and discuss how marketers are using them, and why recent Facebook and Instagram changes have been a boon to those who do.
In the age of intelligent agents, how does marketing work?
Jan 12, 2017 by Barry Levine
If consumers are surrounded by smart go-betweens, it's not yet clear how marketing and advertising will get through.
Dun & Bradstreet buys Avention so its data can become real-time triggers
Jan 12, 2017 by Barry Levine
Maker of OneSource data products, Avention offers an interface that supports setting up alerts and notifications for business opportunities and similar events.
Conversable launched the first Twitter-based automated conference guide at CES
Jan 12, 2017 by Barry Levine
The Austin, Texas-based company added Twitter's automated features to its intelligent conversational platform to create the CES Twitter Guide.
Amazon Canada ordered to pay $1M fine for deceptive price listings
Jan 12, 2017 by Amy Gesenhues
Canada's Competition Bureau said its charges against Amazon sent a clear message that unsubstantiated savings claims will not be tolerated.
5 big things marketers actually have to start doing in 2017
Jan 12, 2017 by Blaise Lucey
Ready to make 2017 the year of optimization? Columnist and Bitly senior content strategist Blaise Lucey delves into five ways to get started.
Mobile marketing predictions for 2017 from 11 industry veterans
Jan 12, 2017 by Aaron Strout
What's in store for mobile marketers in the new year? Columnist Aaron Strout asks mobile-savvy colleagues and clients to share their forecasts for 2017.
Facebook Journalism Project aims to build stronger ties with news publishers
Jan 11, 2017 by Greg Sterling
Company will collaborate with journalists on new products, tools and and training.
Can you prove social media is working?
Jan 11, 2017 by Digital Marketing Depot
Social media ROI is the topic that will not die because, like it or not, social media is still a bit of a jungle in a world of tidy marketing-tactic cities. It's hard to navigate, let alone map and measure.
Online Marketing News From Around The Web:
Analytics
NICE Releases Nexidia Analytics – a Futuristic Interaction Analytics Solution, www.martechadvisor.com
Third-party measurement comes to branded emojis and stickers, digiday.com
Blogs & Blogging
Keyword Strategies for Finding Popular Blog Post Ideas, www.marketingwords.com
Why You Still Need A Blog In The Age Of Social Networking, www.webinknow.com
Business Issues
6 ways Amazon is trying to win friends and influence governments in Europe, venturebeat.com
Amazon plans to create 100,000 new full-time US jobs by mid-2018, www.theverge.com
An Inside Look at Google's Marketing and Media Strategy, www.thinkwithgoogle.com
Apple Sets Its Sights on Hollywood With Plans for Original Content, Wall Street Journal
Content Marketing
4 Reasons Why It Is Time to Outsource Your Content Marketing, www.copypress.com
5 Content Marketing Ideas for February 2017, www.practicalecommerce.com
5 Ways to Monetize Your Content in the Age of Facebook and Google Dominance, www.ducttapemarketing.com
Cracking the Code: 3 Steps to Building Influence with Content Marketing, www.toprankblog.com
How Digital Marketers Are Using Visual Content, www.marketingprofs.com
How to Architect Your Content Strategy, contentmarketinginstitute.com
How to Create Data-Driven Content: A Step by Step Guide, www.searchenginejournal.com
Marketers Are Sabotaging Their Content Programs, contently.com
Seven ways Google helps you unlock the secrets to creating killer content, econsultancy.com
Conversion Optimization
5 Ways To Boost Conversions With Dynamic Content, blog.kissmetrics.com
6 Reasons Why Your Landing Page Has a High Bounce Rate, smallbiztrends.com
Copywriting, Design & Usability
Four food brands with delicious copywriting, econsultancy.com
Usability: The Key to Spending Less on Ads and Increasing Sales, company-enterprise.myshopify.com
UX Design Process: Is There Really One?, usabilitygeek.com
Domaining
Analyzing new top level domain registrations by country, domainnamewire.com
E-Commerce
2016 Holiday Ecommerce Wrap-up, www.practicalecommerce.com
4 ways to keep customers from abandoning your shopping cart, www.internetretailer.com
CPG Brands Can't Approach Ecommerce Like Every Other Brand, www.emarketer.com
eBay to combat counterfeiters with professional authenticators that inspect high-end goods, venturebeat.com
eCommerce Conversion Optimization Best in Class, www.goinflow.com
UK online sales increase 9.5% in Q4, www.internetretailer.com
Email Marketing
Chat Apps Are Exploding, But Email Remains King, www.cmswire.com
Holidays Are Past, but Retailers Keep Flooding Inboxes, www.emarketer.com
Publishers confront email newsletter design challenges, digiday.com
The Complete Guide to Email Automation for Beginners, www.jeffbullas.com
MarTech
3 ways to make people love your chatbot, venturebeat.com
7 Things That Illustrate What Marketers Think About the Future of Technology, blog.marketo.com
CMOs, Don't Be Dumb When It Comes to AI, adage.com
How to Keep up With Marketing Technology Changes, www.razorsocial.com
Mobile/Local Marketing
2017 Will be the Tipping Point for Native Mobile Advertising, adage.com
Google is rolling out AMP Lite for people on low-RAM devices and slow networks, venturebeat.com
How brands are using WhatsApp for marketing, econsultancy.com
How Tough Mudder Gained a 9% Session Uplift by Optimizing for Mobile Users, vwo.com
Introducing Accelerated Mobile Links: Making the Mobile Web App-Quick, amphtml.wordpress.com
Mobile Usage Among B2B Buyers Expected to Grow, www.emarketer.com
The mobile app gold rush may be over, techcrunch.com
Three Costly Mobile Advertising Habits to Shake in 2017, adage.com
WhatsApp Adds GIF Search, Triples Image Sharing Limit, www.adweek.com
Other Items
Security Through Transparency, security.googleblog.com
Social Media
5 Twitter Updates Marketers Need to Know from 2016, www.socialbakers.com
5 Ways to Repurpose Your Popular Social Media Posts, www.socialmediaexaminer.com
86% of U.S. Adults Aged 18-29 Are Social Media Users, www.adweek.com
Connect with Over 1 Billion People Through Audience Network, www.facebook.com
Facebook Ad Specs and Image Sizes [Fully Updated for 2017], blog.bufferapp.com
Facebook is censoring posts in Thailand that the government has deemed unsuitable, techcrunch.com
Facebook On How It's Mending Fences With Publishers And The Press, adexchanger.com
Facebook's European media chief: Fake news is a 'game of whack-a-mole', digiday.com
Four Ways to Use Social Listening to Boost Customer Loyalty, www.marketingprofs.com
Get More Views on Your Company's #Facebook Page, www.searchinfluence.com
Google+ starts showing high-resolution images that take up less bandwidth, venturebeat.com
How To Increase Engagement On Instagram, www.searchenginepeople.com
How to Make Powerful Facebook Ads With the Help of Your Customer Service Team, www.marketingprofs.com
Instagram's shameless Snapchat knockoff is doing marvelously well, qz.com
Make the Most of Twitter: How DMs Can Personalize Your Brand, www.adweek.com
Pinterest starts using deep learning to recommend Related Pins, venturebeat.com
Publishers Aren't Seeing Revenue From Instagram's New Ads, www.wsj.com
Spectacles' Biggest Advertising Advantage Nobody Is Talking About, adexchanger.com
Spending on Social Advertising Is On the Rise (Report), www.adweek.com
What Snapchat's latest ad features mean for fashion brands, digiday.com
Video
6 New Facebook Live Features You Need to Know, www.searchenginejournal.com
Can we chat? Hello Super Chat!, youtube.googleblog.com
Facebook Pages can now "go live" from the desktop, add live contributors and more, TechCrunch
Turner wants to make more social videos for brands, digiday.com
From our sponsors: Marketing Day: Intel's Super Bowl ad, Amazon Canada fined $1M & Facebook Journalism Project
Related posts