Marketing Day: IAB adds DTC leader to board, identity resolution options, cybersecurity for marketers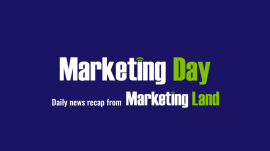 Here's our recap of what happened in online marketing today, as reported on Marketing Land and other places across the web.
From Marketing Land:
IAB names direct-to-consumer brand to board seat for first time
Feb 11, 2019 by Robin Kurzer
The trade group also unveiled research on direct-to-consumer brands' impact on marketing, advertising and consumer engagements.
Know your options: Identity resolution beyond the walled gardens
Feb 11, 2019 by Barry Levine
Bringing together the separate data sets for customers and prospects may be essential, but brands have differing needs — and therefore different solutions.
Cybersecurity for marketers: Teamwork is key to protect data
Feb 11, 2019 by Sam Bocetta
Marketing teams should regularly reevaluate how they approach cybersecurity and work in tandem with their IT department, especially during third-party mergers and acquisitions.
Verizon Media survey on 5G: Consumers expect better AR and video
Feb 8, 2019 by Barry Levine
Advertisers are anticipating new creative formats, better location-based targeting and better access to quality data.
Recent Headlines From MarTech Today, Our Sister Site Dedicated To Marketing Technology:
Data location vendor worked with GDPR regulator on data consent model, yielding 70% opt-in rates
Feb 11, 2019 by Greg Sterling
Teemo says that transparency gives consumers a sense of control and they respond positively as a result.
How to Prepare for a Successful Marketing Analytics Implementation
Feb 11, 2019 by Digital Marketing Depot
Analytics are critical to fuel the success of your marketing investments. Whether you are taking a hard look at your current deployment, or a new deployment is in the works, this non-technical webinar highlights the 5 most common issues that can prevent you from realizing value from your analytics implementation.
Online Marketing News From Around The Web:
"Amazon Live" is the retailer's latest effort to take on QVC with live-streamed video, TechCrunch
How Facebook Has Changed Computing, WIRED
Reddit raises $300 million at $3 billion valuation, CNBC
The Booming Business For Amazon-Only Ad Partners, AdExchanger
The Difference Between Facebook Clicks, Jon Loomer Digital
The Do's and Don'ts of Quora Marketing, CMS Wire
Vimeo revenue jumps 54 percent in 2018, paying subscribers near 1 million, Reuters
Want to earn user trust and drive marketing results? Start with these steps, Think with Google
The post Marketing Day: IAB adds DTC leader to board, identity resolution options, cybersecurity for marketers appeared first on Marketing Land.
From our sponsors: Marketing Day: IAB adds DTC leader to board, identity resolution options, cybersecurity for marketers
Related posts