Marketing Day: Facebook reopens app reviews, Adobe buys Sayspring & Snapchat's Shoppable AR Lenses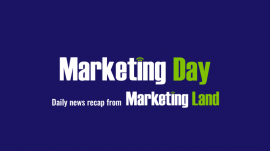 Here's our recap of what happened in online marketing today, as reported on Marketing Land and other places across the web.
From Marketing Land:
Facebook reopens review process for Instant Games & Messenger apps
Apr 18, 2018 by Amy Gesenhues
After halting app reviews following the Cambridge Analytica crisis, Facebook is reopening its process — but will people trust the apps?
Facebook's 'Premieres' video format will let publishers post prerecorded video as live footage
Apr 18, 2018 by Amy Gesenhues
Facebook says its new video format is currently being tested among a group of creators, publishers and shows, with a wider rollout happening soon.
Tech companies organize two efforts to support personal data management — both called Open GDPR
Apr 18, 2018 by Barry Levine
Though unrelated, the initiatives reflect some of the ways the ad and marketing industry is organizing itself around its personal data responsibilities.
Adobe gets more serious about voice interaction with purchase of Sayspring
Apr 18, 2018 by Barry Levine
The one-year-old startup offers a tool that non-technical users can use to create voice-based applications.
Snapchat broadens its ad options with new Shoppable AR Lenses for brands
Apr 18, 2018 by Amy Gesenhues
Advertisers will now be able to add a 'Buy Now,' 'Watch' or 'Install Now' button to their branded Lenses.
Senators introduce privacy 'bill of rights' to protect consumer data
Apr 17, 2018 by Robin Kurzer
The CONSENT Act would require edge providers to comply with FTC-regulated data protection rules.
Are your ads pointing to the right domain? Here's a script to find out.
Apr 17, 2018 by Daniel Gilbert
KA-POW! Contributor Daniel Gilbert has a 'super' helpful script that will make you look like a PPC superhero by verifying your ads are linking to the right domain.
Want to target position 0? Here's what you need to make that happen
Apr 17, 2018 by Karen Bone
Hey Google, how do you become the answer people hear on their voice assistants? Contributor Karen Bone explains how to make that happen by doing your homework on featured snippets.
Here's how to use Twitter to dominate the Google search results
Apr 17, 2018 by Chris Silver Smith
If you want to displace negative content or build a strong brand identity, Twitter can help, says Contributor Chris Silver Smith. Here are 10 ways to use tweets to dominate page one on Google.
Recent Headlines From MarTech Today, Our Sister Site Dedicated To Marketing Technology:
Voice agents and interfaces will require many new marketing strategies
Apr 18, 2018 by Barry Levine
Marketers are only now getting a glimpse of the many approaches that will be required for the many kinds of voice interactivity.
Facebook's secret 'Loyalty Prediction' ad tool anticipates future user behavior & purchases
Apr 18, 2018 by Amy Gesenhues
Powered by artificial intelligence, the Facebook ad service lets advertisers target users based on predicted behavior.
MarTech Today's GDPR guide for marketers is now available
Apr 18, 2018 by Robin Kurzer
We created this easy-to-understand resource especially for marketers, highlighting what's important to know about the upcoming EU data privacy legislation.
Facebook starts to roll out GDPR notifications and consent requests
Apr 18, 2018 by Greg Sterling
The company may have an uphill battle ahead to get users to share personal data.
Marketers must get geeky about campaign lift and control groups. Here's why
Apr 18, 2018 by Gladys Kong
When you ask your vendors about lift, ask them about the composition of the control group. Contributor Gladys Kong explains why sophisticated targeting methods make this question more important than ever.
Online Marketing News From Around The Web:
A New Beginning For In-App Measurement, AdExchanger
From transparency to in-housing: The 5 biggest issues facing the ad agency model, Digiday
How to Brainstorm and Prioritize Your Best Content Ideas, Content Marketing Institute
How to Mimic the Masterpiece Video Marketing of PBS, Tubular Insights
Instagram Engagement by Day of the Week, MarketingProfs
Only 32% of shoppers find loyalty rewards relevant, Retail Dive
Strategic Vision From Today's Chief Digital Officers, CMS Wire
The 2018 Digital Consumer Trend Report, Movable Ink
The Marketer's Glossary of GDPR Terminology, Marketo
The post Marketing Day: Facebook reopens app reviews, Adobe buys Sayspring & Snapchat's Shoppable AR Lenses appeared first on Marketing Land.
From our sponsors: Marketing Day: Facebook reopens app reviews, Adobe buys Sayspring & Snapchat's Shoppable AR Lenses
Related posts