Marketing Day: Facebook gets new CMO, new report from MarTech Today & more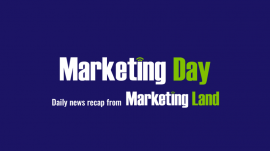 Here's our recap of what happened in online marketing today, as reported on Marketing Land and other places across the web.
From Marketing Land:
The ultimate guide to using Bing Webmaster Tools – Part 4
Aug 24, 2018 by Christi Olson
In Part 4 of this special series, Contributor and Bing Chief Evangelist Christi Olson reviews widgets, copyright removal notices, webmaster tools API, specialty sections and how to contact support if you need assistance.
A checklist: Important SEO points to cover in a content campaign
Aug 24, 2018 by Paddy Moogan
Contributor Paddy Moogan shares a checklist of key on-page and analytical items and how to SEO them so your content campaign runs smoothly and supports your ranking efforts.
New report from MarTech Today: Enterprise Customer Data Platforms: A Marketer's Guide
Aug 24, 2018 by Digital Marketing Depot
The customer data platform (CDP) market is expected to generate $1 billion in revenue by 2019, according to the CDP Institute, as both employment and the number of CDP vendors doubled in 2017. Driving growth is a perfect storm of increasing complexity in the customer journey, the martech stack and data governance.
Facebook recruits former HP marketing lead as its new CMO
Aug 24, 2018 by Amy Gesenhues
Antonio Lucio will assume his new role at Facebook September 4. Meanwhile, VP of Partnerships Dan Rose plans to depart in February.
AdTheorent launches Relationship Targeting
Aug 24, 2018 by Barry Levine
The New York City ad tech firm looks to influence in-market buyers by also directing ads at friends and family.
Facebook, Twitter & Google take down malicious content originating from Iran
Aug 23, 2018 by Amy Gesenhues
Facebook took down 652 Pages, groups and accounts, Twitter removed 284 accounts and Google disabled 42 YouTube channels.
Recent Headlines From MarTech Today, Our Sister Site Dedicated To Marketing Technology:
A blended ABM approach: Designing programs
Aug 24, 2018 by Jessica Fewless
Contributor Jessica Fewless reviews how a blended ABM approach using personalization, events and direct mail can benefit B2B marketers.
Facebook bans an app once used by 4M people, suspends 200 more
Aug 24, 2018 by Amy Gesenhues
Facebook says it is notifying those who shared information with the myPersonality app, which was mostly active before 2012.
Online Marketing News From Around The Web:
Video SEO – Advanced Strategies Proven To Grow Your Reach, IgniteVisibility
A Professor Has Uncovered The One Element That Has The Biggest Effect In Marketing, Forbes
Agile Transformation as Told Through Gifs, Marketing Insider Group
Can AI replace human copywriters in digital marketing?, Smart Insights
Entertaining and Informative: B2C Messaging for B2B Content Strategy, Skyword
How to Create Amazing Photos for Your Emails on Zero Budget – Email Marketing Tips, Aweber
The post Marketing Day: Facebook gets new CMO, new report from MarTech Today & more appeared first on Marketing Land.
From our sponsors: Marketing Day: Facebook gets new CMO, new report from MarTech Today & more
Related posts