Marketing Day: Facebook adds publishers' logos, IAB's Podcast Playbook & more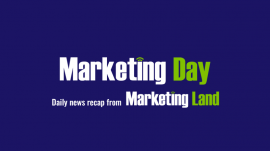 Here's our recap of what happened in online marketing today, as reported on Marketing Land and other places across the web.
From Marketing Land:
The one martech metric that really matters: Customer lifetime value
Aug 23, 2017 by Kevin Bobowski
In a noisy, hyper-competitive market, how do you stay ahead of your rivals? Contributor Kevin Bobowski explains why customer lifetime value and building a customer-obsessed organization are essential.
10 tips for choosing the perfect domain
Aug 23, 2017 by Ryan Shelley
When it comes to choosing a domain name for your business, you've got more choices than ever. Columnist Ryan Shelley provides suggestions for narrowing it down.
Load time, static site generators & SEO: How we lowered our own site's load time by 74%
Aug 23, 2017 by Chris Liversidge
Google's upcoming transition to mobile-first indexing, combined with its raised expectation of mobile site performance, should convince site owners to consider static site generation. Contributor Chris Liversidge explains.
Join the marketing technology community at MarTech. Beta rates expire this Saturday!
Aug 23, 2017 by Marketing Land
Join the marketing technology community at MarTech, October 2–4 in Boston. You'll be able to choose from more than 40 sessions featuring 50 speakers from brands and agencies braving the intersection of marketing, technology and management.
Facebook adds publishers' logos to links in search results, trending lists
Aug 23, 2017 by Tim Peterson
Facebook hopes the logos will make people more aware of their news sources but is not yet adding them to its main home for news: people's news feeds.
IAB releases its first 'Podcast Playbook' guide for marketers
Aug 23, 2017 by Barry Levine
The new publication is the latest effort by IAB to make podcast advertising part of mainstream marketing.
Why freelance marketing work could be damaging your personal brand
Aug 23, 2017 by Matt Umbro
While freelancing can be a great way to earn extra marketing dollars, columnist Matt Umbro says you need to have the right mindset and be wary of potential issues.
Google announces AMP speed and viewability enhancements for ads
Aug 23, 2017 by Michelle Robbins
Utilizing "Fast Fetch" ad request and rendering, ads served on AMP (Accelerated Mobile Pages) will now be faster, and potentially will improve viewability rates.
Online Marketing News From Around The Web:
Analytics
Marketing Value: 4 Data Points to Prove ROI to the C-Suite, MarketingProfs
Self-Service Analytics Offer Opportunities and Challenges, CMS Wire
Business Issues
GoDaddy COO Scott Wagner Returning to Chief Executive Post, Wall Street Journal
Snapchat Content Chief Expects First Scripted Fare This Year, Says "Mobile Is Not a TV Killer", Hollywood Reporter
Women-First App Bumble Turned Down $450 Million Buyout Offer From Dating Giant Match Group, Forbes
Content Marketing
All Content Is Not Created Equal, CMS Wire
Content Marketing Tools Are Becoming More Diversified, eMarketer
The Washington Post brings artificial intelligence to its native ads, Digiday
E-Commerce
Amazon's long private-label game, Digiday
Global Ecommerce Markets Will Reach $4 Trillion By 2020. Are You In?, Shopify Plus
How to Add AI into the B2B Ecommerce Mix, Multichannel Merchant
Email Marketing
3 Unique Ways to Personalize Your Email Content with Data, Movable Ink Blog
General Internet Marketing
Customer Engagement: B2B and B2C Companies Fail to Engage, MarketingProfs
Introducing The State of Engagement, Marketo
September 2017 Marketing and Holiday Planning, Constant Contact Blogs
Internet Marketing Industry
Tapad Announces Forward Progress through The Trade Desk Integration, PR Newswire
ViralGains and Peer39 by Sizmek Go Beyond Brand Safety and Partner to Deliver Highly Contextually Relevant Video Ads, Market Wired
Zang Cloud Helps Marketing Tracking and Measurement Company Reduce Costs by 94 Percent, Market Wired
MarTech
Annina Koskiola, CEO of Proximi.io talks Marketing Tech, MarTech Advisor
Getting To The Holy Grail: How Publishers Measure The Incremental Value Of Ad Tech Partners, AdExchanger
How AI is a Catalyst for Digital Transformation in Marketing, MarTech Advisor
Mobile/Local Marketing
Facebook Geo Targeting, PPC Hero
Introducing Campaign Creation in MailChimp's Mobile App, MailChimp Blog
The state of mobile programmatic in 5 charts, Digiday
Social Media
Instagram, Snapchat Adoption Still Surging in US and UK, eMarketer
Is Your Social Content Picture-Perfect or Merely Taking Stock?, Content Marketing Institute
Survey: Twitter is More Effective Tool to Reach Local Audiences, KoMarketing
Video
Facebook now lets you take 360 photos in-app, use them as Cover Photos, TechCrunch
Floyd Mayweather and Conor McGregor Take Their Fight to Online Video, Tubular Insights
The Top 10 Instagram Video Statistics To Know For 2017, MediaKix
From our sponsors: Marketing Day: Facebook adds publishers' logos, IAB's Podcast Playbook & more
Related posts