Marketing Day: Facebook ad errors, NASA on Pinterest & media suppliers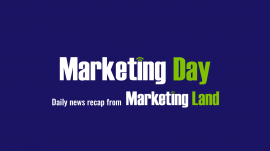 Here's our recap of what happened in online marketing today, as reported on Marketing Land and other places across the web.
From Marketing Land:
NASA has created official accounts on Pinterest and Giphy and they're pretty great
Dec 9, 2016 by Tamar Weinberg

NASA has made a super smart move to showcase amazing graphics through dedicated Pinterest and Giphy accounts.

Invoca embeds IBM's Watson so call centers can better understand their customers
Dec 9, 2016 by Barry Levine

Companies say this is the first use of the supercomputing service for marketing-focused call intelligence.

PullString opens up its conversational platform for Amazon Alexa skills
Dec 9, 2016 by Barry Levine

The availability of the PullString platform means brands are now getting more options for developing their interactive personalities through intelligent voice agents.

"Power of search" keeps Google #1 with WPP; Facebook poised for #2; Snapchat gaining
Dec 9, 2016 by Ginny Marvin

Search and YouTube help Google dominate as WPP's largest media supplier.

For online retailers, second time's the charm
Dec 9, 2016 by Lewis Gersh

Many online retailers see a big bump in business in December. Then those buyers disappear when the holidays end. Columnist Lewis Gersh advises how to convert those first-time buyers into second-time buyers and eventually loyal customers.

Invaluable B2B marketing hacks we can learn from publishers
Dec 9, 2016 by Scott Vaughan

Columnist Scott Vaughan shares some of the ways his experience in the media and publishing world has shaped the strategies and tactics he's applied to his B2B marketing efforts.

When to launch holiday-themed email campaigns: A playbook for marketers
Dec 9, 2016 by Jason Warnock

It's time to start thinking about your email marketing strategy for 2017! To help you plan ahead, columnist Jason Warnock takes a look at when three leading retail brands executed their holiday-themed email campaigns.

A CMO's View: For PepsiCo, martech is central to shaping the consumer experience
Dec 9, 2016 by Amy Gesenhues

PepsiCo CMO Seth Kaufman shares how his teams are using martech across the brand's entire product line.

Facebook discloses new measurement errors, continues to hone its math
Dec 9, 2016 by Tim Peterson

Facebook misreported engagement numbers for links and live videos and is refining the ad reach estimates it shows advertisers.
Online Marketing News From Around The Web:
Affiliate Marketing
Another Record Breaking Black Friday, blog.affiliatewindow.com
PMA Announces 2017 Board of Directors, thepma.org
Thanksgiving to Cyber Monday Success, blog.cj.com
Analytics
5 Techniques to Help You Truly Understand Your Customers, KISS Metrics
Blogs & Blogging
GoDaddy Acquires WP Curve, Aims to Become a One-Stop Shop for WordPress Professionals, wptavern.com
How You Can Protect the Login Page in WordPress, www.wpexplorer.com
Content Marketing
Fixing Native Advertising: What Consumers Want From Brands, Publishers, and the FTC, Contently
How to Create Content People Actually Search For, Content Marketing Institute
Conversion Optimization
10 web design and UX trends to boost conversions in 2017, www.usertesting.com
What is Confidence Level? The Conversion Rate Optimization Glossary, Crazy Egg
Domaining
10 notable NameJet sales from last month, Domain Name Wire
Google Acquires Debug.com, The Domains
E-Commerce
Cyber Monday 2016 by the numbers, myemma.com
Does Visual Search Improve Ecommerce Conversions?, Practical E-Commerce
Eleven Consecutive Billion-Dollar Days of Online Desktop Spending from Thanksgiving through Cyber Week Mark the Longest Streak Ever, comScore
Helping website newcomers find their way around can boost sales, Internet Retailer
Shoppers aren't buying on Pinterest as much as Macy's expected, Internet Retailer
Email Marketing
15 Industry Experts Share Their #1 Email List Building Tactic, AWeber
3 Holiday Email Design Best Practices for 2016, AWeber
7 Email Marketing Practices to Leave Behind in the New Year, blogs.constantcontact.com
America's Relationship With Work Email, www.reachmail.net
Holiday Email Report: The Aftermath of Cyber Week (11/28-12/04), Movable Ink
Introducing our new & improved Salesforce integration, myemma.com
Looking Back on a Year of List Management Tips, blog.mailchimp.com
General Internet Marketing
SnapApp Unveils "The Campaign Confidence Gap" Report, Uncovering Challenges and Areas of Opportunity for B2B Marketers, PR Web
Internet Marketing Industry
Marchex and [24]7 Partnership Delivers Digital Marketing Automation for Inbound Call Campaigns, www.businesswire.com
AdRoll Lays Off Staff, fortune.com
Global business wins drive international expansion for Infectious Media, www.infectiousmedia.com
MarTech
AI Gone Wild, Real-Time Data Comes to CRM and More to Expect in 2017, www.cmswire.com
IoT Is A Security Mess And Regulators Are Paying Attention, Ad Exchanger
Marketing Automation for Sales Development, Marketo
Predictive Marketing: The Next Must-Have Technology for CMOs, www.cmswire.com
Sequencing the Marketing Stack for Local Businesses, tidings.com
Take Stock of your (Marketing Technology) Stack, marketingviews.me
Mobile/Local Marketing
Google Play Ranking Algorithm Update 12/3, incipia.co
How retail apps can improve user engagement and retention, Mobile Commerce Daily
Pokemon Go Will Turn Starbucks Locations Into PokeStops, Gyms, AdWeek
Social Media
Facebook Glitch Reposts Old Photos, PC Magazine
Facebook tests turning comment reels into message threads, TechCrunch
Fading anonymous social network Yik Yak is laying off most of its employees, TechCrunch
Social Isn't Driving Dollars…So What's Next?, simplymeasured.com
This is getting ridiculous. Facebook just ripped off Snapchat's navigation, Mashable
From our sponsors: Marketing Day: Facebook ad errors, NASA on Pinterest & media suppliers
Related posts