Marketing Day: Chatbots in the consumer search experience, Facebook news & email deliverability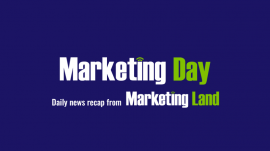 Here's our recap of what happened in online marketing today, as reported on Marketing Land and other places across the web.
From Marketing Land:
Martech enablement series: Part 9 — Bringing it all together!
Oct 5, 2017 by Peter Ladka
In the final installment of a nine-part series, contributor Peter Ladka wraps up by discussing what we've learned about the martech enablement process and how to evaluate your progress in transforming your marketing organization.
Will chatbots become part of the consumer search experience?
Oct 5, 2017 by David Freeman
Recently, Bing has been experimenting with a chatbot feature directly in search results. Columnist David Freeman discusses how this shift could impact marketers.
Live Chat Best Practices for Conversion Rate Optimization
Oct 5, 2017 by Digital Marketing Depot
As many as three-quarters of website visitors abandon their shopping carts, and nearly 50 percent bounce from your site. Wouldn't it be great if you could "read" your website visitors' body language while they are browsing – and better understand which visitors to profitably engage with and what they need to make those purchases?
Facebook tests augmenting article links with publisher info from Wikipedia
Oct 5, 2017 by Tim Peterson
Facebook will attach a button to article links that people can tap to get more context about the publisher and topic.
The ABCs of improving email deliverability
Oct 5, 2017 by Scott Heimes
How do you ensure your emails are reaching your recipients' inboxes? Columnist Scott Heimes discusses the steps you can take to stay in good standing with your readers and ISPs.
All the devices Google announced Oct. 4 at its 'made by Google' hardware event
Oct 5, 2017 by Greg Sterling
'Hardware, software and AI' is Google's competitive recipe for this new ecosystem.
MarTech conference highlights digital marketers' central dilemma
Oct 5, 2017 by Barry Levine
In session after session, it's clear that marketing technology has reached a turning point.
With Snap Accelerate, Snapchat pursues mobile startups that built Facebook's ad biz
Oct 4, 2017 by Tim Peterson
Snapchat's program aims to win over mobile startups looking to acquire new users, the same type of advertiser that helped newly public Facebook overcome its ad problems.
Online Marketing News From Around The Web:
Business Issues
Amazon Is Testing Its Own Delivery Service to Rival FedEx and UPS, Bloomberg
Facebook fights back, Axios
How Amazon is readying its blitz on the ad industry, Digiday
Content Marketing
5 Psychological Concepts That Can Improve Your Content Marketing, Search Engine People
How to Conduct Interviews Like a Journalist: 30 Tips for Content Marketers, MarketingProfs
What Makes Great Content? The Three Marks of Highly Effective Content, Stone Temple
E-Commerce
Too big to ignore: Amazon's biggest threat is from regulators, Digiday
Unwrapping the Holiday Social Shopper, Multichannel Merchant
What Does the Consumer Internet of Things Mean for Marketers?, Get Elastic
Email Marketing
How to create a brilliant internal newsletter, VerticalResponse
How to Grow Your Holiday Email List (Before It's Too Late), Constant Contact
The Ultimate Email Marketing Personalization Checklist, Movable Ink Blog
General Internet Marketing
Managing brand associations in social media, CMS Wire
Some publishers give Facebook and Google visitors a worse user experience, Digiday
Internet Marketing Industry
Active International and AlmondNet Group Form Long-Term Strategic Business Partnership, PR Newswire
Demandbase Transforms B2B Marketing with Next Generation ABM Platform, Demandbase
Taykey Uses "Wisdom of the Crowds" to Tackle the Inventory Quality Challenge with Smart Whitelist Launch, Business Wire
MarTech
10 Ways Blockchains Can Benefit Merchants, Practical Ecommerce
7 Tools for Smart Competitor Analysis, The Blog Herald
Why Marketers Have AI on the Brain, CMS Wire
Mobile/Local Marketing
4 Steps To Create A Mobile App Advertising Strategy, PPC Hero
EMarketer lowers Facebook Messenger growth forecast as Snapchat, Instagram gain, Mobile Marketer
Should you Implement AMP? | Accelerated Mobile Pages, Branded3
Social Media
B2B Social Media Marketing: How to Engage Customers, MarketingProfs
Protecting Your Brand Integrity on Social Media through Exclusions, 3Q Digital
What's Behind the Pumpkin Spice Latte's Social Media Stardom?, Convince and Convert
Video
How to Storyboard a Marketing Video (When You're Not an Artist), Crazy Egg
How YouTube influencers are rewriting the marketing rulebook, Think with Google
Twitter Eyed for UK In-Stream Video Ad Rollout, eMarketer
From our sponsors: Marketing Day: Chatbots in the consumer search experience, Facebook news & email deliverability
Related posts