Google launch new 'Google Analytics 360 suite' [@SmartInsights Alert]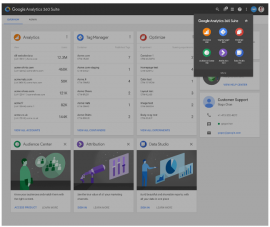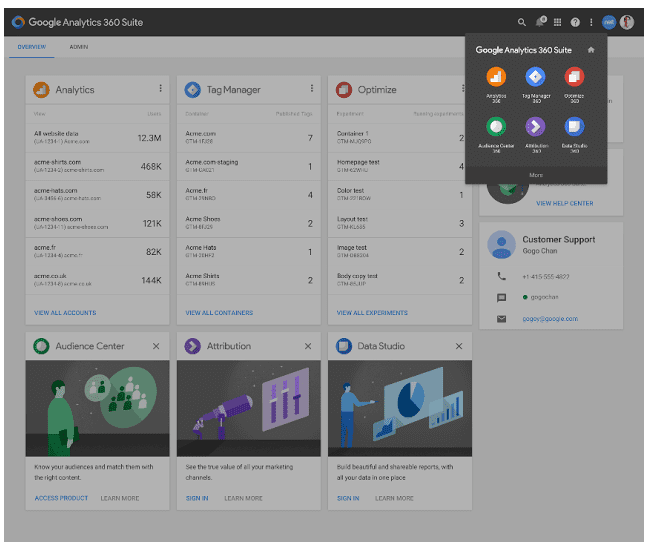 Google upgrades Google Analytics Premium into a capable Marketing Data Management and Analysis Platform
Importance: (For businesses who can potentially pay for Google's Analytics Premium features and service)
Recommended Source: Google Adwords blog announcement
Here we give you the lowdown on Google's new 360 suite and get some in-depth analysis from Google Analytics expert Matt Trimmer.
As users of Google Analytic's Premium product will already know, Google has long provided a great range of analytical data to help you discover insights into your customers wants and needs.
However until now there was no way of unifying this with other platforms in an easy to use way. That is what this new offering from Google, named its '360 suite' after the '360 degree view of the consumer', aims to provide. It gives you the ability look at a number of different data sets and offers new functionality all in one place, and integrates with other Google products like Adwords as well as third party providers.
There are three key types of new functionality shown in the list of services below (**): Google's long-awaited data management platform (DMP), testing and personalisation and a data visualisation tool. Taking the suite as a whole this is a huge deal since it may reduce the need for larger businesses to invest in enterprise marketing cloud services from other vendors like Adobe, IBM and Oracle.
Everything is managed in one seamless platform, saving time and hassle. That said, Google Analytics Premium currently comes with a hefty price tag of some $150,000 dollars (minimum) a year, it certainly is only an enterprise tool.
Great for enhancing personalisation with additional data
The Google Analytics 360 Suite can integrate with a range of third-party data providers. It also works seamlessly with Google AdWords and DoubleClick Digital Marketing, Google's core ad serving technology. This lets marketers turn analytics into action by combining their own data from across different sources ― website data, audience data, and customer data (e.g. CRM) and more. This data can then be used to make ads more relevant for people, and let you serve personalised content to visitors on the website.
It's out now in Beta
The product hasn't fully launched yet, and will probably be tweaked over the coming months. However, it is available from today in Beta. Some of the tools available in the 360 package are already available, but 4/6 launched just yesterday so are in the beta testing stage. Google have noted that this is a 'limited beta', so it may not include all current GA premium customers. To get an idea of what features the new products launched yesterday are going to provide, see the full list of features from Google below:
** Google Audience Center 360 (beta). This powerful data management platform (DMP) helps marketers understand their customers and find more like them across channels, devices, and campaigns. It offers native integration with Google and DoubleClick, plus it's open to third party data providers, DSPs and more.
** Google Optimize 360 (beta). This website testing and personalization product helps marketers deliver better experiences. Marketers can show consumers multiple variations of their site and then choose the version that works best for each audience.
** Google Data Studio 360 (beta). A new data analysis and visualization product that integrates data across all suite products and other data sources ― turning it into beautiful, interactive reports and dashboards. Built-in real-time collaboration and sharing is based on Google Docs technology.
Google Tag Manager 360. Built from our industry-leading tag management product, it empowers enterprise marketers to move faster and make decisions with confidence. It offers a simplified way to gather site information (all those tiny bits of code) and powerful APIs to increase data accuracy and streamline workflows.
Google Analytics 360, formerly known as GA Premium, will roll out exciting new capabilities throughout the next couple of months as investments continue to grow. It will serve as the measurement centerpiece by analyzing customer data from all touch-points and integrating with our ad products to drive marketing effectiveness.
Google Attribution 360, formerly known as Adometry, has been rebuilt from the ground up to help advertisers value marketing investments and allocate budgets with confidence. Marketers can analyze performance across all channels, devices, and systems to achieve their most effective marketing mix.
Do I really need more data?
It not necessarily about needing more data, it's more about better ways to utilise your it and draw out insights that can lead to action. That's where 360 suite can really come into its own. Research by Forrester shows that enterprise marketers utilising analytics platforms are three times more likely to outperform their peers in achieving revenue goals. Whilst the price restricts the product to larger organisations, if you already use Google Analytics Premium then learning to use the full range of products now available in Google's '360 suite' will be more than worth it.
The Google Analytics expert's view
We asked Google Analytics consultant and trainer Matt Trimmer of iVantage for his analysis of the new suite and the implications for businesses. This is his review:
As a Google Analytics user, partner and fan since 2005, yesterday was an exciting day. Paul Muret, VP of Analytics, Video and Display products at Google and known to many Google Analytics users as the "father" of Urchin announced the arrival of Google Analytics 360 Suite.
Designed specifically for the enterprise, Google Analytics 360 Suite is a rebranding of some products and the birth of some new ones. The suite is comprised of six products. Google Analytics Premium is rebranded Analytics 360 and little (at the moment) has changed with its functionality. Google Tag Managed when offered as part of Google Analytics premium, sorry that should be Analytics 360 is to be known as Tag Manager 360.
Again, no functionality changes in these two products but when supplied together Tag Manager is covered by the same reliability and availability Service Level Agreement – meaning compensation from Google in the unlikely event of an outage. But this is not new.
Google acquired a specialist online attribution firm Adometry back in 2014 and I think its fair to say at the time the attribution modelling was something of a consultative proposition. Google now seems to have productised that offering firmly. The Adometry proposition is now Attribution 360 – attribution insights for enterprise customers using on-line media and off-line broadcast media.
Back in June 2016 at the Google Analytics Partner Summit, we were shown two products by excited Google Product Mangers who tend to say "awesome" rather a lot. One was an awesome (sorry) A/B and multi-variant testing platform with the ability to build pages and serve them on the fly (all without coding required) to different audiences as defined by Google Analytics' segments. This comes to the market as Optimize 360 and is integrated with Google Analytics' unified segments and effectively goes further than merely testing content but also serving the right content to the most responsive audience and most opportunistic time – site personalisation if you will.
The second awesome product was really a simple to use data analysis engine that sucked data out of Google Analytics, again with no coding or indeed much effort, and presented said data in a rather splendid and visually simulating way. This product was born yesterday as Data Studio 360. It's Google Analytics dashboards, Google spread sheets and Charts on steroids! Oh, and of course it's not just Google Analytics data.
The final product that I don't think too many people have seen but many have been waiting for is Audience Centre 360 or really Google's long awaited Data Management Platform. A place where all your data from analytics, search, display, email, social and CRM can be harnessed for better advertising – more relevant ads to an audience that is most likely receptive at the right time. The significant point here is that the DMP is open – meaning it's not just analysing Google's propriety data, but any other data sets you might care to feed it in order to produced a better ad on indeed website (or for that matter mobile app) experience.
Cleary, this DMP integrates with Google's DSP platform – DoubleClick allowing programmatic and real time bidding for that premium ad space. Integration is also native for Google AdWords. Again, significantly Google Audience Centre 360 can share data with other DSP platforms – helping you target on platforms other than Google and most importantly allowing you to prevent advertising overlap and impression saturation.
As a Google Analytics fan, I'm excited because this marks the beginning of another chapter in the life of Google Analytics and it's all coming from the Google Analytics organisation rather than DoubleClick team. For many of us though, this technology may not be of immediate benefit to us as it's new, mostly in beta and more significantly, built for the enterprise with a hefty price tag to match. If I were working in a big brand now with big digital budgets, I would look very closely at this "technology stack" from Google. For those us that work with more modest budgets, we can but hope that eventually this technology will filter down to us all in the digital marketing area. After all, isn't my dollar spent on AdWords as good as some of those spent by the big brands?
From our sponsors: Google launch new 'Google Analytics 360 suite' [@SmartInsights Alert]
Related posts